One of the most common complaints that we hear is that people did not know. We feel that it is imperative that you be informed of current changes, proposals and also if incorrect information is being channeled through the media.
We will endeavour to bring you up-to-date articles found in the local newspapers, some of which will be serious and of concern, while others will be lighthearted. We certainly do not want to be accused of losing our sense of humour while some of those around us want to dispossess us of our firearm, read property, rights.
Please note that these articles come from a variety of sources, possibly reported news items, editorials, letters to the editor, cartoons of current events, etc., so please check carefully to find which of the above is valid for the item you are perusing.
_________________________________________________________
03 November 2010
Media Release 3 November 2010

http://www.gunownerssa.org/forum/viewtopic.php?p=2883
Sed quis custodiet ipsos Custodes?
-Juvenal

The Minister of Police, Mr E.N. Mthethwa MP has reported back to the nation on the outcome of the assessment he requested the Civilian Secretariat for Police to do with respect to the implementation of the Firearms Control Act, 2000.

Gun Owners of South Africa were invited to make submissions to an inquiry into the functioning of the South African Police Service's Central Firearms Registry.

Given the unfortunate predicament the CFR found itself in GOSA was simply of the opinion that an internal inquiry or task team approach would not be sufficient to instill lost confidence in the spectacular failure in implementation of the Firearms Control Act.

Were this issue to be faced by any other department or organ of State, we said, the correct approach would be to appoint an outside body which is above reproach to conduct a detailed forensic audit of the Act and the implementation thereof. According to S181 of our Constitution the Auditor-General is that impartial body.

The Minister's report-back, whilst very honest and open, is a litany of disaster, mismanagement and chaos at the Firearm registry. It is clear that billions have been poured into the Black Hole that is the Central Firearms Register. With no visible impact on crime -- inconceivable given that the FCA is still touted as a crime-fighting measure.

Money just keeps on disappearing in it. Now, the Minister wants us to give the Central Firearms Register another shot at sorting out the mess of their creation - with a few minor face-changes.


Send more good money after bad.

The Minister is not going to scrap relicensing. He is not going to scrap renewals. He is fully committed to making the FCA work. The Minister still thinks with a few minor tweaks the CFR can implement the Act properly and efficiently.

It is clear every aspect of implementation of the Act is collapsing. There are 5 year backlogs in renewals and three year backlogs in new licence applications. The database is hopelessly corrupted, the hugely expensive software cannot fulfill the most basic data-retrieval tasks, the staff turnover especially of qualified people is immensely high due to poor staff morale at having to continually shovel out the Augean stables, so-called call-centre staff cannot even access the renewal system so everyone who has called in over the last couple of years to be told their renewals are in progress has been held for a fool.... That's fraud, Mr Minister!


We told you so, Minister!

We call on the Minister to release the report immediately. Taxpayers have a right to know how chaotic affairs are at the Central Firearms Register.

GOSA warned the Minister that the Canadian Long-gun Registry upon which the FCA is based was an expensive failure. Every Rand poured into the CFR is diverted from effective policing on the ground or maintenance of a rural police station.

Gun Owners of South Africa are on record demanding that the licence renewal process be suspended until the police service is in a position to complete the gun license renewal applications they have. We were ignored. Now we call on the Minister of Police to scrap the Act. The FCA has to be abandoned, urgently, as happened to its Canadian (Long Gun Registry) blueprint.

The question is how many more billions the Minister is prepared to pour into the implementation of an unimplementable Act to save face?

The FCA was enacted in 2000. Implementation started in 2004. The second round of gun license renewals should have started, again, by now.

We warned that the SAPS would not be able to assume the administrative burden when this Act was before Parliament as a Bill.

From the Minister and the task team's own admission, this Act is a disaster, unimplementable. The SAPS have consistently denied there is a problem at the Central Firearms Register. Now we are expected to trust them again.

The lion's share of the blame should be apportioned to the Auditor-General. He has shamefully ignored his responsibilities.

He should have intervened long ago. All the replies by Minister for Safety and Security Charles Nqakula to parliamentary questions about the renewal of gun licences disclosed that the hideously costly implementation of the Firearms Control Act has degenerated into a disgraceful sham.The shambolic state of the CFR is also a by-product of a complete lack of parliamentary oversight.

It is a sad indictment of government, our legislators in Parliament - across party lines - and our Chapter 9 institutions, who have all failed our Constitution.

Eighteen months ago the Pretoria High Court stayed prosecution of gunowners who refused to comply with the unconstitutional Firearms Control Act. Before that, gunowners had faced a massive intimidation campaign that included threats via the media of 15 years imprisonment of gunowners who did not renew gun licences.

Police Minister Nathi Mthethwa's Department has had 18 months to sort out the chaotic implementation of the Firearms Control Act. Indeed, one would have expected that by now the maladministration of the Firearms Register had been rectified and the 5-year renewal backlogs wiped out. That is what the Head of the Central Firearms Register promised us on 'Fokus met Freek'.

Sadly, that has not been the case. Minister Nathi Mthethwa is now telling us he wants to start again and promises that this time, he will do it right.


In other words: Another blank cheque.

Minister Mthethwa, the country needs to know how much this Act has cost them. First tell us that, if you want the SAPS to regain our trust.

Brett Nortje
Exco Member
Gun Owners of South Africa
082 700 1244
02 November 2010
Here are the remarks by Minister of Police, EN Mthethwa, MP, to the National Press Club on the current challenges (political word for problems) affecting the SAPS firearms application and licensing processes held at the Sheraton Hotel, Pretoria.
13 August 2008
M E D I A R E L E A S E

EMBARGO: For immediate release

Enquiries: John Smyth QC, 083-653 8804

JASA TAKES MINISTER NQAKULA, JACKIE SELEBI AND FIREARMS APPEAL BOARD TO COURT

JASA has filed papers in the Cape High Court seeking declarations that the refusal to pay compensation to persons who surrender firearms as required by the Firearms Control Act, 2000 offends against the Constitution.

For over 4 years since the relevant legislation came into force the Minister and National Police Commissioner have refused to comply with section 137 of the Act. JASA alleges in its affidavit that the State has acted 'unreasonably and arbitrarily, and without procedural fairness, in that most applications are rejected out of hand, ignored or simply filed away', contrary to section 33 of the Constitution which requires just administrative action for all persons.

Both individuals and dealers have suffered financial hardship; in one of several supporting affidavits filed in court it is alleged by one dealer that she suffered a loss of over R.2m as a result of refusal by all three Respondents to assist her after she had surrendered her stock of firearms. In another affidavit a lady of over 70 years of age tells of how she was treated with disdain and discourtesy, and repeatedly told she was not entitled to compensation, when she surrendered one firearm at her local police station. JASA alleges a further breach of the Constitution in that section 25 forbids deprivation of property without compensation.

JASA lays the blame for this appalling state of affairs squarely on the shoulders of the Minister and SAPS Commissioner who, on 8 June 2005 and 12 October 2005 respectively, stated in Parliament, in defiance of the Act, that no compensation would be payable to those surrendering firearms.

Parliament clearly intended that s.137 of the Act should encourage the surrender of firearms, a aim which JASA wholly supports in our crime-ridden society. The Minister and SAPS take a different view. Ultimately the Constitutional Court judges must decide.

Affidavits and the Notice of Motion filed in the suit may be found on our websites.

John Smyth, QC
Honorary Director

Justice Alliance of South Africa
"Upholding Justice in the Public Square"

T +27-21-713 3259
F 086-6 72 74 74
E info@justicealliance.org.za
W www.justicealliance.org.za
17 August 2006
http://www.businessday.co.za/articles/national.aspx?ID=BD4A251728
Business Day - South Africa (posted 17 August 2006)
"Gun dealers 'driven out of business'"
Wyndham Hartley
Parliamentary Editor
CAPE TOWN — Ninety percent of SA's gun dealers have been driven out of business and lost their livelihoods after the implementation of the Firearms Control Act, Parliament's safety and security committee heard yesterday.
The committee was hearing representations from interested parties about a bill amending the act. The firearms industry was worth in excess of R2bn and employed thousands of people before the act came into effect.
While the gun control lobby called for the act to be strengthened, the pro-gun groupings argued that the laws were in conflict with the constitutional protection of property and the right to compensation if firearms were forfeited as a result of the act.
It was common cause that the South African Police Service (SAPS) was not coping with the relicensing process as prescribed by the law.
It required about 600000 legal gun owners to reapply between last year and 2008.
The first-draft amendment bill scrapped the relicensing procedure and replaced it with an audit. However, this was abandoned when the bill was finally brought to Parliament, and the relicensing requirement was reinstated.
Andrew Souter, of the South African Arms and Ammunition Dealers Association, accused the police and the Safety and Security sector education and training authority (Sasseta) of being at the heart of the bungling that saw some 640 of 720 gun dealers go out of business by June 2004 — two years after the Firearms Control Act came into operation.
Souter said competency testing and licensing were taking as long as 18 months. This meant dealers had to wait that long before they could conclude a sale to an individual. This was unsustainable for the industry, he said.
While the SAPS firearms registry and Sasseta had been on a steep learning curve with the implementation of the act, more than 600 dealers had paid with their livelihoods, he said.
Souter warned that at some point, the provision of the act would be contested in the Constitutional Court for infringing the constitution's property clause.
Gun Free SA has supported the relicensing of gun owners' firearms in preference to an audit of existing legal weapons. It said relicensing would produce an accurate record of legal guns in circulation.
02 August 2006
http://www.news24.com/News24/South_Africa/News/0,,2-7-1442_1976744,00.html

Roads 'not dangerous enough'
01/08/2006 22:58 - (SA)

Eduan Roos, Beeld

Johannesburg - South Africa's roads are not dangerous enough to justify having a firearm, a man from Kempton Park heard after applying for a firearm licence.

This is despite several deadly attacks on motorists throughout the country.

As a motivation for his application on December 29, auditor Gerhard Marx, 28, who drives daily to his job in Pretoria, said he wanted to safeguard himself on these "dangerous roads".

But, on July 14 Marx received a letter from the central firearm register, turning down his application because in terms of the new Firearms Control Act he "did not have enough proof" that the country's highways were dangerous.

Money and effort 'wasted'

At least four motorists have been murdered in the past month and four more attacked by gangs of thieves.

Marx said: "It's ridiculous.

"After all my money and effort in first being declared competent and then applying for this licence, I am now told the roads aren't dangerous enough for me to warrant me having a firearm."

Marx inherited a .22 revolver from his father.

"I applied for a competence certificate and then for the licence," he said.

National police spokesperson Phuti Setati admitted, when asked, that South Africa's roads were dangerous, but said applications were "very thoroughly" examined and that Marx could appeal against the decision.

"There could be several reasons why his application was turned down and he has waited so long because they have to make dead sure that applicants are competent in all respects to handle firearms," said Setati.

'Not enough motivation'

"There is no way to determine how long it will take if he appeals, because we are not in any hurry to grant or refuse licences, precisely because this has to be done so carefully."

South African Gun-owners Association (Saga) spokesperson Martin Hood said that in 70% of all applications, the argument was that the applicants gave insufficient motivation of the need for a licence.

"Lodging an appeal usually takes more than two years," he said.
01 August 2006 - Fred Mouton in Die Burger newspaper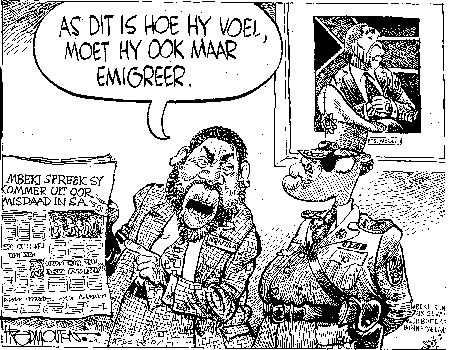 For those who speak English: The newspaper reports on Thabo Mbeki's recent statement that he is worried about crime in South Africa, while Charles Nqakula, Minister for Safety & Security, is saying that if that is how Mbeki feels, he should also emigrate.
20 June 2006
Article from The Herald, Monday 20 June 2006
NEARLY three out of every four South Africans are worried about becoming a victim of armed violence, and over half the population has been the victim of a gun crime, or knows someone who has been, in the last five years.
This is the result of a survey in six countries, conducted as an initiative of the Control Arms Campaign, which is a joint initiative by Amnesty International, Oxfam International, and the International Action Network on Small Arms (Iansa).
The campaign is calling on governments around the world to introduce global principles to regulate the transfer of weapons and ensure they do not end up in the hands of human rights abusers.
As a part of the campaign, a petition signed by 28 000 South Africans in support of a global arms trade treaty will be handed to director Titi Molaba from the disarmament and non-proliferation of arms section of the foreign affairs department.
The petition will be handed over by a coalition of organisations including Amnesty International South Africa, the Ceasefire Campaign, the Coalition for Peace in Africa, and Gun Free South Africa, at Constitution Hill in Johannesburg today.
The survey – conducted in Brazil, Guatemala, Canada, South Africa, Britain and India – found that many people were living in daily fear of armed violence. The study, conducted last month, also showed that the unregulated proliferation of firearms was the source of most people's insecurity. An average 62 per cent of all those surveyed said it was "too easy to obtain a gun" in their country, while 63% cited the easy availability of guns as a main reason for fear.
"Unless governments act to stop the spread of arms, deadly weapons will continue to fuel violent conflict, state repression, crime and domestic abuse," said Shehnilla Mohamed, of Oxfam International.
"With 12 billion bullets produced every year, enough to kill everyone in the world twice, isn't it about time that governments agreed to regulate arms exports?" she said.
The survey said an average of 87% of all respondents wanted "strict international controls on where weapons can be exported to". It also showed strong support for "better controls on arms coming into their country," with 89% of respondents agreeing.
This study comes just a week ahead of the UN World Conference on small arms, which begins on Monday in New York.
"Our survey shows that uncontrolled proliferation of weapons has blighted every corner of the globe, with millions of people living in daily fear of becoming a victim of armed violence," said Amnesty International's secretary general, Irene Khan .
"Governments meeting in New York next week must recognise the overwhelming popular call for tougher international arms controls, and act."
Iansa director Rebecca Peters said: "With nearly two in three people worried about becoming a victim of armed violence, the international community is calling for action."
[Our note: We are not surprised that it was not the entire population of South Africa who feared not only gun crime, which action is normally perpetrated by gun wielding criminals, but other violent criminal action as well. Remember that statistics can be carefully selected or even manipulated to endorse any point of view. We were also wondering how the respondents to the study were selected?]
06 June 2006

http://www.businessday.co.za/articles/topstories.aspx?ID=BD4A209094
Business Day - South Africa (posted 01 June 2006)
Nqakula does about-turn on relicensing of legal weapons
Wyndham Hartley
Parliamentary Editor
CAPE TOWN — Safety and Security Minister Charles Nqakula has done an about-turn on existing gun licences, with the latest draft legislation insisting that all existing legal guns be relicensed.
The latest version of the Firearms Control Amendment Bill, presented yesterday to Parliament's safety and security committee, abandons an earlier suggestion that the relicensing process be replaced by a national audit of all legal firearms.
The move is certain to again have gun owners upset.
The draft does an about-turn on the relaxation of the number of weapons that legal gun owners can retain.
Earlier versions of the bill advocated restrictions on the number of weapons applicable only for new applications. This was to avoid having to pay compensation to gun owners for the weapons they would be required to surrender to the state.
After extensive consultation with the gun-owning community, Nqakula published an amendment bill late last year acknowledging the responsible firearms owners who had committed no offences. He undertook to abandon the relicensing programme for the group. However, these provisions have been removed from the latest bill.
Inherent in Nqakula's about- face is an attempt to forestall civil claims from those who have already lost their firearms as a result of their relicensing applications being refused.
South African Police Service (SAPS) legal adviser Flip Jacobs, in response to MPs' questions, acknowledged that if relicensing had been scrapped, there was the chance of a flood of civil claims against the police from those who had already got rid of their weapons.
Democratic Alliance MP Roy Jankielsohn said the idea behind the audit to replace relicensing was to deal with backlogs of up to 18 months. He asked if the police were now able to implement the original provisions of the act, which called for about 600000 weapons to be relicensed each year for four years.
Jacobs said there would be a policy review so that responsible firearm owners would have no problem with their relicensing applications. He cautioned that gun owners would still have to sell, surrender or destroy excess weapons before all legal licences expired on June 30 2009.
Freedom Front Plus MP Pieter Groenewald asked how this would be achieved, as it was not contained in the draft bill. Jacobs said it would be part of a policy review on the reasons for refusal.
Martin Hood, spokesman for the South African Gunowners' Association, said the amendment bill did not address the problems experienced in implementing the act. "They need to admit the mistakes that have been made rather than trying to escape the consequences," he said.
He said the SAPS had kept "moving the goal posts", creating the sense that the consultations were not in good faith. (Emphasis ours)